Admitted
1981, California
Law School
McGeorge School of Law, University of the Pacific, J.D., 1980
College
University of California at Davis, B.A., 1975
Membership
San Luis Obispo County and American Bar Associations; State Bar of California.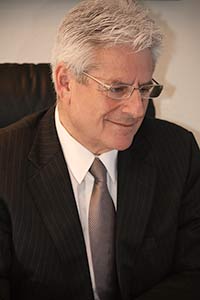 Biography
Greg Abel has been in practice since 1981. With a background in civil litigation, Greg has concentrated his practice in family law since 1994. His experience as a litigator and negotiator gives Greg a particular advantage in his family law practice. Some cases cannot be resolved without going to Court. If your case is one that cannot settle, Attorney Abel will apply his vast trial experience in vigorously representing your matter.
Greg was admitted to practice law in California in 1981. He graduated from the University of California, Davis campus in 1975 and received his Juris Doctor (JD) from the University of the Pacific, McGeorge School of Law in 1980. Greg has lived in San Luis Obispo County since graduating from law school.
Greg's firm represents parties in family law matters including, but not limited to marital dissolution, property division, child custody and visitation proceedings, actions for spousal and child support, division of employee benefits, prenuptial agreements, post marital agreements, enforcement of existing Court Orders, and modification of Orders.
Wendt and Abel law firm also provides legal counsel and courtroom representation to heirs and potential heirs, beneficiaries, trustees, executors, personal representatives and third-parties involved in a dispute over a will, trust, or an estate.
Since joining the original firm in 1982 Greg Abel has earned the reputation as a conscientious, skilled and ethical advocate. Wendt & Abel enjoys working relationships with business evaluators, mental health professionals, estate planners, accountants, and other specialized experts who are engaged to obtain the best possible resolution for the client.
Born
Palo Alto, California, September 10, 1953